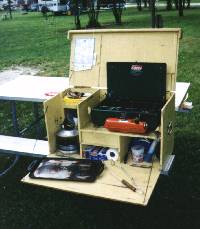 The Kitchen Box
Paul's Camp Kitchen
To make camp chow it's necessary to have a well equipped camp kitchen. That doesn't mean a food processor and a blender; the trees don't have outlets on them.

Here's what I have in my camp kitchen:
Cooking:
- Coleman® Liquid fuel 2 burner stove.
- Coleman® Folding oven.
- Colgan's® sparker for lighting stove.
- Extra flints (butane lighter type).
- Cast iron skillet w/ lid - 10" diameter.
- Cast iron Dutch Oven - 14" diameter.
- Heavy stainless steel 1 and 1.5 qt Sauce pans.
- Tea kettle (whistle optional).
- 4 and 6 qt aluminum pots.
- Pie tins
- Cake pan
- Cake cooling rack (10" diameter)
- Wooden utensels: spatula, spoons, etc.
- Can opener: a good one, w/ cutting wheel.
- Pot holders (2).
- Pot grabber.
- Small cutting board.
- SHARP knives (2).
- Knife sharpener.
- Tongs.
- Pepper mill.
- Salt shaker.
- Paper towels.
- Aluminum foil.
Eating:

- Inexpensive plastic table cloth.
- Table cloth clips.
- Huricane Lamps (2).
- Melmac® or equiv. plates.
- Melmac® or equiv. bowls.
- Plastic mugs.
- Stainless steel flatware.
- Terry cloth washrags (use for napkins (serviettes)).
Clean-up:

- Plastic dish pan (hospital basin).
- Dish drainer (mesh shopping bag).
- Windshield scrubber (mesh covered sponge).
- Dawn® detergent.
- Onion bag.
The smaller items are kept in Cheese Boxes (Velveta® type). Every thing except the Dutch Oven fits into the wooden kitchen box.
A few of the items may sound a litle strange but there is a definite reason for eash one. The empty onion bag makes a GREAT pot scrubber; it makes quick work of clean-up and it doesn't scratch the pots.
The table-cloth and napkins - we are civilized, aren't we? The hurricane lamps are for those romantic candle-light dinners; the wind won't blow out the candles.
A lot of beginners think that if they use paper plates and plastic utensils that they are saving on cleanup - plastic knives and forks break - paper plates just won't do; they absorb juices and become soggy. Disposal is not very freindly to the environment. Besides you have to wash the cookware anyway; the dishes take only a few more minutes.
---
This page is always under construction. Please come back soon...