More of Paul's Links
Here are a few more links to some fun places on the Web. Enjoy!
---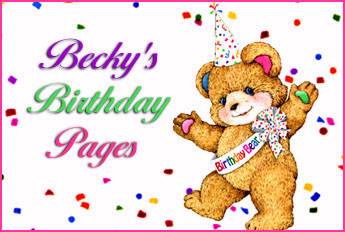 Here's a place where you can list your birthday and find a lot of people who have their birthday on the same day as yours. Becky also has a really neat Greeting Card page so you can send cards to all those people with whom you share your birthday.
---
This is a site that is really worth a visit.
Meghan is one of our ladies in uniform.
Her site is QueenieMeg's E-Card Link Page
Send her an E-mail message and tell her how you found her site.
---
This site was written by a Junior High School class.
It's all about the collapse of the Tacoma Narrows Bridge.
GREAT JOB kids!!!
---
Here's a WWW Site that's gone to the dogs - or is it for the birds? Anyway it's a couple of my friends in Utah - Ann and Larry.
Leave them a message and tell them I said "Hi".
---
If you like poetry you might like Marge's Poetry Page.
---
Tired of the usual 'beeps' and 'boops'?
Want some different sound effects for your computer functions?
The place to get them is The Daily .WAV.
---
More sound effects - Here's all of your favorite cartoon characters.
---
For all you aviation buffs:
The U.S. Navy Blue Angels.

The U.S Air Force Thunderbirds.
---
This is a site I discovered in Jan 1998.
It is an on-line exhibition by a Sweedish artist named Christina.
Some of the paintings take a while to load but they are worth the wait.
---
So you want to sing around the campfire or just about anywhere else and you can't remember the lyrics. Well, here they are.
---
If you HATE the tactics being used by telemarketers as much as I do,
you'll love this site. It's the Anti-Telemarketer Source
---
Paul's links page is always under construction.
Please come back soon.