Sample HTML Program
---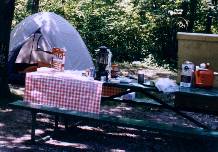 Pictures

This is an example of how we can put photographs on our WWW page. Notice how the text flows around the left side of the picture. We could have placed the picture on the left and have the text flow around the right hand side.

By specifying the dimensions of the picture area, we are able to display the text while the picture is loading. This feature is very useful when loading large or many pictures. It allows the visitor to start reading the text while waiting for the pictures to load.

If you've been following along in the Wilbur specification, you can see how easy it was to do this.

You might recognize the picture. It's my campsite in Brown County Wisconsin.